Photographers Guide to Alaska
For The DIY Photographer
Alaska is such a draw to the travel, wildlife and nature photographer with endless animals and landscapes to photograph but custom trips can be expensive and costly. In this guide I will help you find awesome places and things to do during your stay in Alaska without the need for a travel guide. You will see wildlife, landscapes, glaciers and ice tunnels found nowhere else in the US.
I recommend spending around two weeks and going either at the very start of the season around early May or at the very end of fall which in Alaska is mid September. Take a flight to Anchorage and start your adventure there, I would highly recommend getting a 4×4 and from a car hire company that will let you go off road (more on that later). While the train is a fun option you will miss out on some scenery only accessible by car. 
Everything in this photography guide to Alaska has been tried and tested, I will include all the links to tours, things to do, locations and other important sites to visit as best I can to the map at the bottom of the page. This list is in no way extensive, Alaska is a huge wilderness and full of adventures; these are just a few of the places I can recommend to do within two weeks. 
Make sure you are aware of some of the military posts in Alaska before using a drone too and remember you can't use a drone in any national park in the US. 
Before you ask why I didn't include Lake Clarke, well in the peak season the level of tourism is through the roof, in my opinion everyone goes there and takes the unique feel of the shot away. At peak times you are only allowed an hour at a time too. Personally I would avoid it.
Couple of notes about Alaska, photography stores are in their few so hunt down everything you need and where possible have back ups of everything. I was cut short with a broken tripod RC2 plate and one place near Denali wanted $250 for a tripod that weighed more than my car and about the same age too. Now anytime I go I will make sure I have a few of the small easier to carry supplies.  So let's crack on, here is my photography guide to Alaska from the experiences I have had there. 
If you want to see the map for all the places I mention in the guide and many more, then click here or scroll to the end of this post. More information about the Northern Lights and how and when to see them can be found on my guide here.
Anchorage, Whitter & Portage (Landscapes, Wildlife, Glaciers)
This may be your starting point and there are a few places to visit in and around Anchorage but only accessible by car. Head out to the Eagle River Nature Center which is around a 35min drive. Eagle River is WAY bigger than it looks on the map but the walking is easy going and not too strenuous when you get there. You will find plenty of wildlife there including Bald Eagles but you will have to be prepared to spend a while to see everything as the foot traffic is above average. Saying that it's well worth the drive for the early morning mist but stop off at Gwennies Alaskan Restaurant for breakfast first, you will thank me for it. 
Further still is Portage and Whitter which has glaciers and lots of Bald Eagles, Sea Otters and other marine life to see – check out the Shotgun Cove Trailhead and head out with Lazy Otter Charters to get closer to the glacier from the sea with one of their tours or rent a sea kayak and do it yourself. Wrap up for the day if you do and use your Outex to protect your gear.
Kenai Fjords National Park (Landscapes, Wildlife, Glaciers)
Alaska is blessed with the most beautiful national parks in the US to photograph and the Kenai Fjords is among my favorite national parks in the US. There are a huge amount of tours and excursions that are worth considering if you are on a time press here. Exit Glacier is worth a visit and has a good chance of spotting bears and such but there are crowds here as you work your way up to the top of the overlook to see Exit Glacier. You may encounter some crappy weather towards the end of the season so cover up your camera with Outex if you are not using a tripod or use one of the Think Tank Photos Emergency Rain Covers.  
There are a tonne of tours that all start in Seward which offer kayaking around the various glaciers on the Fjords and I would highly recommend doing so. You're more than likely to see whales, sea otters, seals and much more. Large boat groups are available too but do the kayaking if you can, again take your Outex and cover up your camera. 
Turning Head Kennels offer some great tours of their racing dogs up on the glacier which includes a 20 mins helicopter ride over bald eagles, mountain goats and other wildlife along the way to the glacier top. Well worth the trip. 
From Seward you can catch the Alaska RailRoad which goes all the way to Fairbanks, it's a fun ride however I would recommend driving instead. The drive between Seward and Fairbanks is stunning, lots of places to stop off and take pictures of where the mountains meet the water. 
To explore the whole peninsula would take two weeks on its own as the place is so vast and interesting, if you do want to stay here for a long time, 5 – 7 days would get sucked up with places to visit easily. There are Upper Trail Lake Rest Area with its mountain views, Juneau Creek Falls and Russian River Falls all worth stopping off for a few hours at least. 
Head to Homer and visit the spit, which is a long strip out to sea that has bars, boat marina and some old shops that make for great photography with the Kenai National Park as a backdrop, can't get better than that ! 
Homer has some superb tour companies offering trips to Hallo Bay where the bear viewing is second to none,. It's a short flight from Homer to Hallo Bay which is about an hour with a landing on the beach before you head out through creeks and water beds to see coastal brown bears looking for salmon. You can book with Alaska Bear Viewing or if you want something a bit more fancy you can stay with Alaska Photo Tours and tour the park for up to 5 days. Either way a brilliant experience of a lifetime. You can also find tours to McNeil River State Game Sanctuary which is amazing but it's a long trip and expect to take plenty of gear with you.
Glenn Highway & Richardson Highway (Landscapes, Glaciers)
A road much less traveled and off the beaten track for many tourists but has a glacier worth visiting Caribou Creek Recreational Mining Area which overlooks the Matanuska Glacier. The Matanuska Glacier can be walked on as access is easy from the road and trail head, if you are going when the ice is at its peak take some cleats for your shoes or ice grabs. 
The Richardson Highway runs from the Glenn Highway end all the way up to Fairbanks passing the entrance to the Denali Highway at Paxon. Along the road you will see some of the pipelines that run all the way to Yukon and up to Deadhorse at the north of the state. 
Loads of chances to see wildlife in the creeks and gorges as you drive through them, and one place to stop off is the Castner Glacier Ice Cave which is accessible from Castner Creek on the west side of the road. It's best to visit in the early part of the season as the ice starts to become unstable in September. This unimproved road is located at mile 217.3 on the north side of Castner Creek. The road ends after 1/2 mile, turning into an unimproved foot path heading up the side of Castner Creek. A 1/2 mile hike leads you to the Castner Glacier. This trail is not maintained and not marked. Travel upon the glacier is not recommended.
Denali Highway (Landscapes, Wildlife)
One of the highlights for any trip to Alaska is driving the Denali Highway, which is a long 132 mile road and 80% of it is a pretty ruff road way, just enough for cars to pass (even in an RV). The Denali Highway runs from Paxson to Cantwell and has a few campgrounds and hotels, think basic here, along the way. The entire trip has plenty of opportunities to take pictures and find wildlife such as bears and various deer. One of the lodges along the way offers photo tours by ATV but the campgrounds are amazing with views of the night sky like no other if you happen to hang around for an overnight stay. 
Just be aware that the road is hard going and you will need a 4×4 at the very least and check your car hire company lets you drive it. I've used GoNorth RV hire which has great customer service and decent prices with pick up in Anchorage and Fairbanks. Make sure you are fully aware of all the terms and conditions before you hire as it can get costly.
You can do the drive with just a single stop but I would recommend at least 2 nights to drive it, especially if you are coming from Fairbanks down the Richardson Highway via Paxson. Make sure you have a full tank of fuel too as fuel stops are very limited from the Cantwell end of the Denali Highway. The road is only passable in season, so make sure you don't try in the winter. If you have time stop at Tangle Lakes for camping, the view is stunning.
This road is drone friendly too but check the local small airports before throwing your drone up, flying under 400ft still applies and keep your distance from airstrips. 
Denali National Park (Landscapes, Wildlife)
There is a single 92 mile road accessible by bus that goes into the park, you can book tickets for the various bus tours from the Denali Visitors Center where you can buy permits to camp out as well. Many of the buses are free to Savage River and Alpine Pass that are near mile marker 15 which is the furthest point you can access the park in your own car if you wanted to drive in. Alpine Pass has lots of Moose, Bears and Dhal Sheep to see. More information on Savage River can be found here. 
Denali is also trail-less so make sure you are prepared with a GPS device if you are going off the bus to explore. Also educate yourself about bear behavior as well as the chances of an encounter are extremely high. 
Wonder Lake is nearly a full trip into the park along the 92 mile road, the trip takes around 5 hours so be prepared with food and drink. Reflection Pond is close by and both offer stunning views of Mt McKinley / Denali in the background. You will need to book your bus tickets for this in advance of getting to Denali, you can do so online here. If you are looking to stay out in the park you can book for Wonder Lake Camp Ground at less than $20 a night, which is an absolute steal !
For a trip into the park you will need a 400mm lens at least for wildlife and if you are looking to do landscape then a 20mm to 50mm should see you well. Just make sure you are prepared to see every kind of animal, always keep your distance, normally you will not have to venture too far off the road to see everything you need anyway but in case you want to wait then be prepared. Most buses will stop and turn side ways to get shots of bears that walk the road looking for ground squirrels and the narrated buses will stop and show you any Moose sightings. 
Below are a few links to the local trails close to the park entrance, while low on photography value the map is useful for getting around the entrance to the park.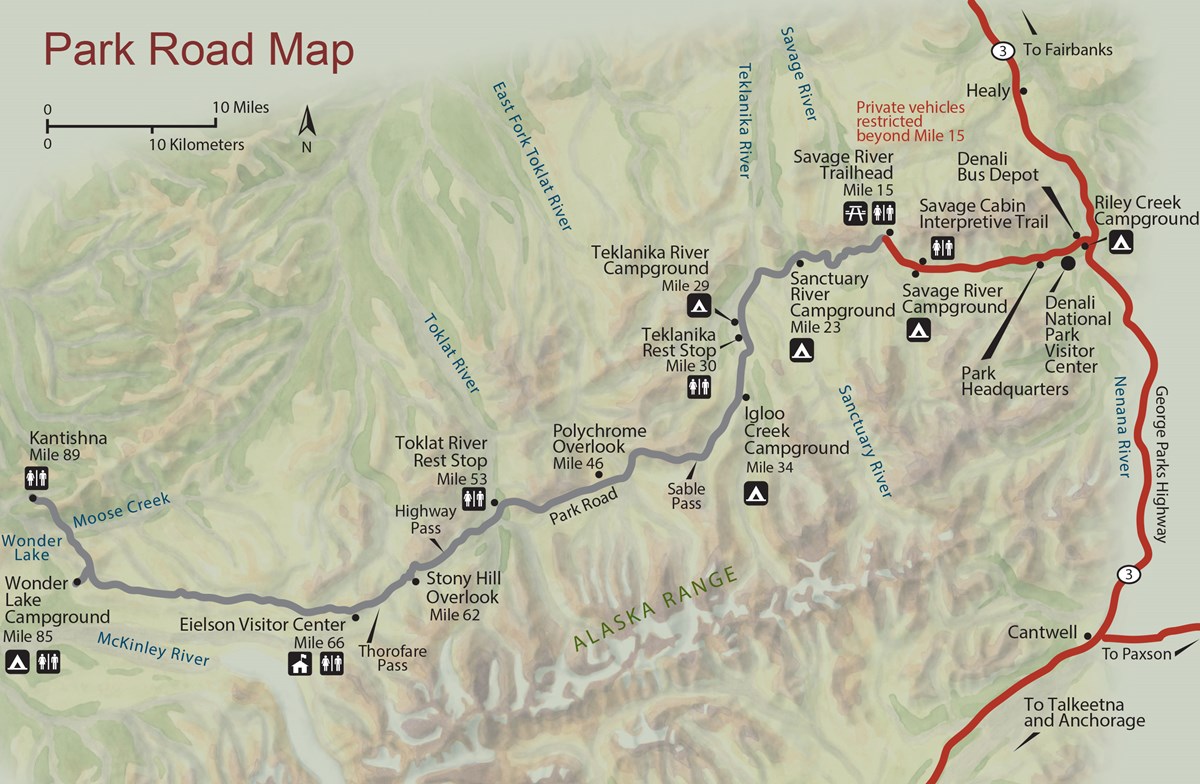 Photography Guide to alaska map
Here is your photography guide to Alaska cheat sheet with all the locations and a few more not mentioned in the list above.
If there are some places you would like to recommend then please post them in the comments below.
sample 15 Day itinerary for exploring alaska
Arrive at Anchorage and pick up hire car, over night stay. AirBnB

Drive to Portage & Whitter to Sea Kayak Prince William Sound. Explore Glaciers.

Head to Moose Pass and Cooper Landing and Stay at Summit Lake Lodge check-in for 3 days. Pre-bookable activities on offer.

AM Glacier Dog Mushing with Turning Heads Kennels

PM Whale and marine life watching with Northern Latitude Adventures

Explore local hiking and trails with photography opportunities around Moose Pass and Cooper Landing. Russian River Falls has bears.

Homer Spit & Alaska Bear Tours at Hallo Bay with Alaska Bear Viewing

Head north either by Alaska Rail Road or self drive to Denali National Park

Multi night stay near Denali National Park, visit the park using the bus service and some of the locations such as Wonder Lake and Alpine Pass. Lots of hotels or camping available.

Drive the Denali Highway from Cantwell to Paxson, camp at a few of the various grounds including Tangle Lake.

Drive slightly North to see the Castner Glacier Ice Cave from the Castner trail head.

Over night stay at Slide Mountain Cabins and RV Park on Glen Highway